What is a Library Box?
A Library box is a place for our community members to stop to 'Take a Look and Grab a Book'.  It's a place where neighborhoods can enjoy and share their favorite stories. In the end, this project will allow NKEF to have locations throughout our town,  where any member of the community may stop by and grab a book or two and bring back another book or two to share. The NKEF hopes that this will encourage and enhance the love of reading in our community.
Have you checked out an NKEF Library Box?
Send your pictures to [email protected]
and
we will add them to our website.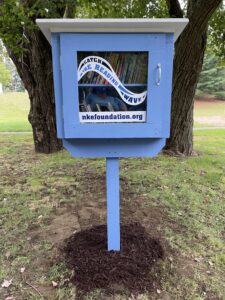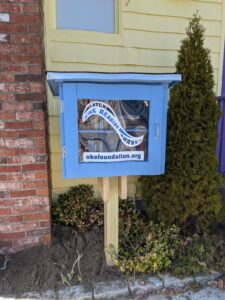 Book Collection
The NKEF is collecting gently used books (children and adults) to fill our 

Library boxes located throughout North Kingstown. 

We, now, have permanent Book Collection blue bins at the following locations to help us stock

our boxes and share the gift of reading all year long!!
Flowers by Bert and Peg

550 Tower Hill Rd, North Kingstown, RI 02852

The Carriage Inn

1065 Tower Hill Rd, North Kingstown, RI 02852 

Roy Boy's Clam Shack 

6710 Post Rd, North Kingstown, RI 02852

Drop off your books, anytime!